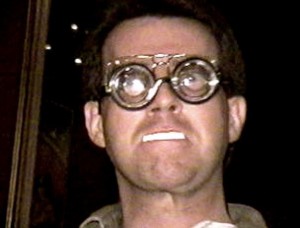 BREAKING NEWS: Just received a Christmas Card from Dave Jackson with a very long letter enclosed. Could this be the start of a reunion? Developing…
Update: 12/21/10: Yes, it is true. It was quite exciting yesterday getting a call from my wife who had just picked up the day's mail and saw a card with a return address label indicating Dave Jackson was finally in contact with me again. One of the earliest blogs here from almost 4 years ago had us finding Dave after many years of being out of touch. Since Dave has had some health issues over the years, we have always been concerned about him when time passes without any contact. However, these last several years were much different. We were getting our letters returned with no forwarding address, all phone numbers we had for him and his family were inoperable, and Dave has absolutely no digital footprint to speak of. On top of all that, no People Finder could ever guarantee we were actually finding the right Dave Jackson. So when I received the 4-page letter from Dave yesterday with all the details on his situation, I was quite relieved to say the least. I immediately phoned him and we talked for at least an hour.
It was a very good conversation and we will be hooking up over the Christmas holiday in person, most likely at one of our old favorite hangouts, the Omega Restaurant in Downers Grove. We used to go there regularly after our radio show each week. Perhaps the timing of receiving contact from Dave again is somehow connected to the Winter Solstice coinciding with the lunar eclipse for the first time in 456 years. I don't want to make it sound like this is the start of another Chris and Dave Smorgasbord Show run, as I don't think that will be possible on many levels. But I truly believe Dave will have something to contribute to the new SmorgShow Podcast and I look forward to whatever contribution he can make. This is truly exciting news to have my old friend and radio partner back in my life.
I'll continue to provide updates here as I have them to share. In the meantime, Merry Christmas to all!
-Webmaster Chris