This page is dedicated to Fred L. Moore, General Manager for WDGC-FM at the time. In hindsight, Mr. Moore really let us get away with quite a bit. In most cases, he turned the other cheek. However, on a few occasions, we really pushed the limits and subsequently, we heard from Fred. In most cases, we just got verbal hand slaps. On another occasion, I was actually suspended from my show for parking my car on the grass right outside the radio studio (a neighbor had called Mr. Moore down to the station at 11 at night. He showed up in his pajamas and let me have it!)
However, in between these two extremes, we had the greatest challenge – to overcome having our creativity stifled. On the night of September 25, 1982, our third Smorgasbord radio show, Fred was listening. He did not like what he heard, and I received a phone call immediately following our sign-off. I answered the phone, and Fred was on the other end. All he said to me was, "Don't say a word – just get a pencil and paper and write this down!". What he had me write down eventually became to be known as "Fred's 9 Commandments" (He never could come up with a 10th):
DO NOT USE THE DELAY SYSTEM
DO NOT PUT THE TELEPHONE ON THE AIR
TALKING SHOULD NOT EXCEED 10 MINUTES PER HOUR
DO NOT REFER TO EQUIPMENT FUNCTIONS ON THE AIR
DO NOT TRY TO BE FUNNY BECAUSE YOU ARE NOT
DO NOT TALK OVER SONGS OR OTHER RECORDED MATERIAL
DO NOT TIE UP THE TELEPHONE
GIGGLING AND STUDIO NOISES ARE PROHIBITED
NO SPECIAL EFFECTS SHALL BE USED
# 5 especially hurt! Listening back to the earliest shows now, he was probably right. Dave and I were still new partners and we had not yet hit our stride.
Essentially, if we had followed these new rules verbatim, we would have been forced to broadcast a traditional radio show – no call-in segments, no free-form conversation, no on-air contests. Just 10-12 songs per hour, along with time and temperature. We had high hopes for the show, and we were not about to lie down and play dead.
Following that exchange that evening, I think I pulled an all-nighter, writing an extensive rebuttal to Mr. Moore's points which I handed him on Monday morning. What ensued was back-and-forth letter writing essentially getting us to a compromise which allowed us some degree of flexibility to do a creative show. Over time, we slowly started to push the limits again, but this would be a delicate balance between professional radio as Fred Moore wanted it and free-form conversation radio as Chris and Dave wanted it. We frequently got into battles with management over what was appropriate on-air behavior.
My rebuttal letter: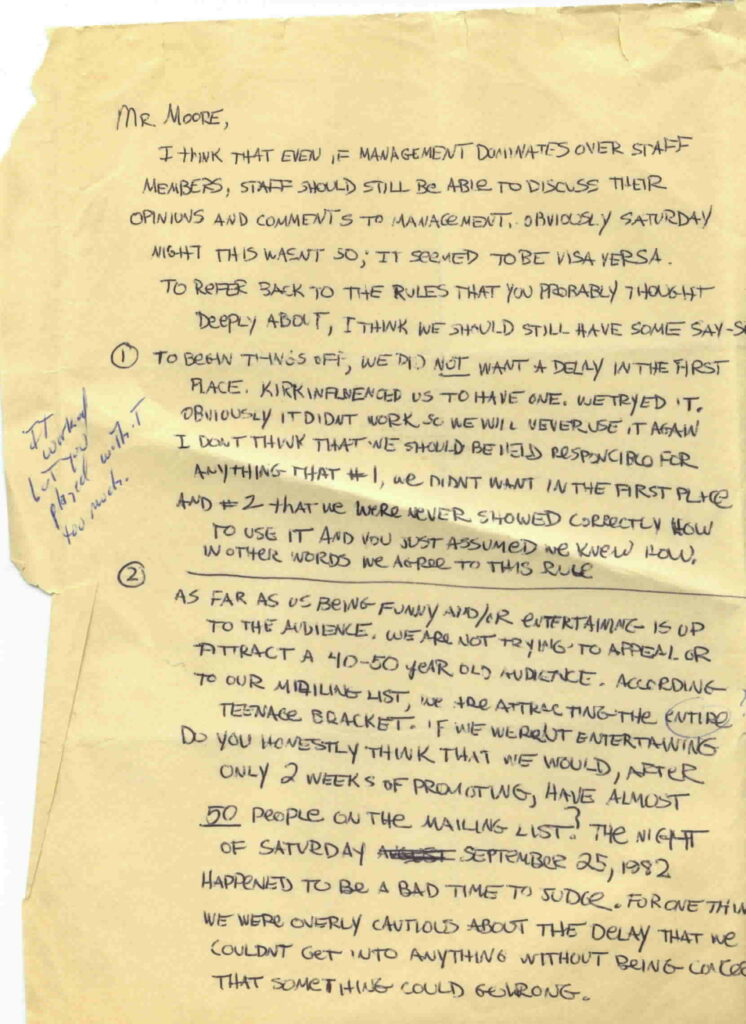 After a few days, I received his reply in my 'inbox'.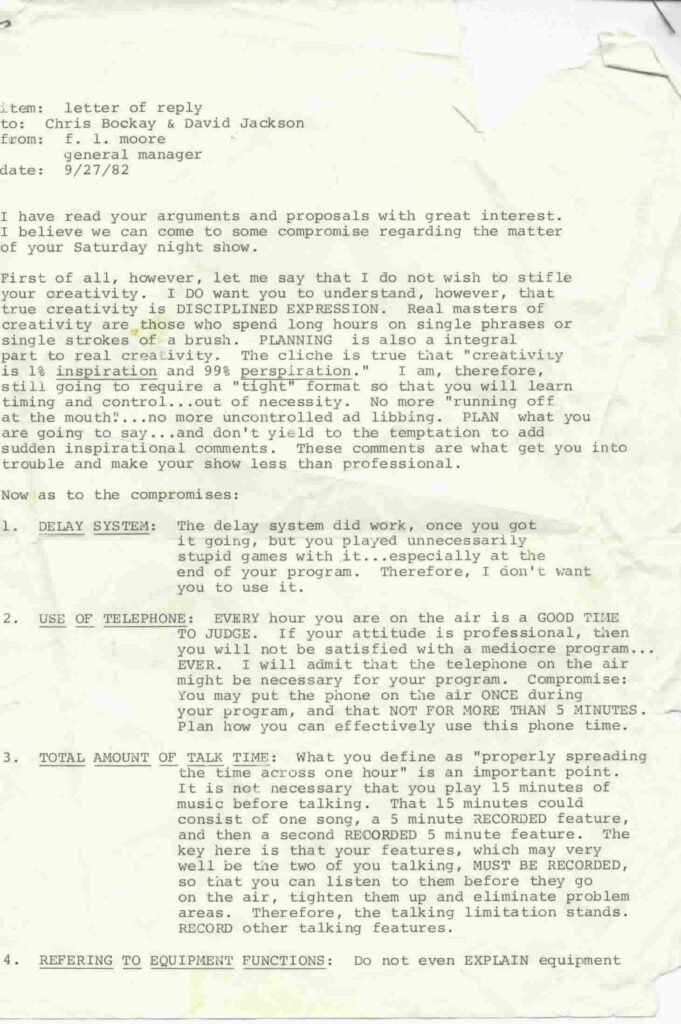 It inspired me to write a song appropriately entitled "Sympathy for the Deejay" (based on the classic Rolling Stones song).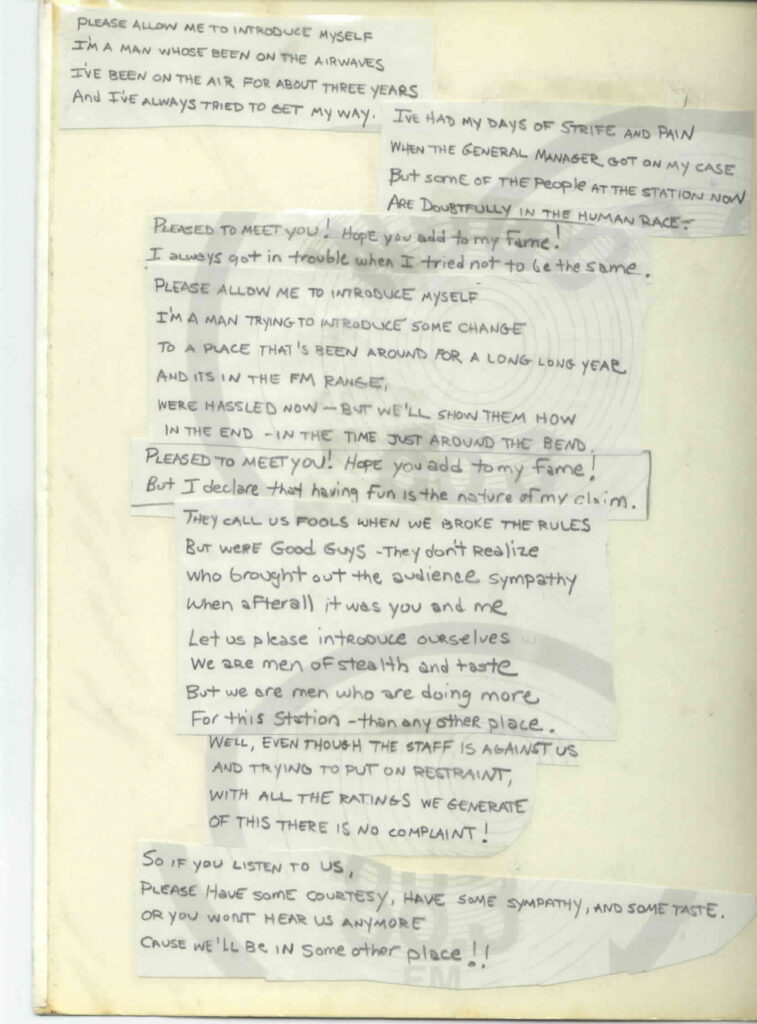 Then of course, there was the infamous "parking on the grass" incident. I had lots of personal equipment that I brought to the station each week to do our show and it was quite cumbersome to make multiple trips to my car. So one night toward the end of Season 2, I drove my car right up to the radio station door and unloaded the car. That was my first mistake. The second mistake was not moving the car back to the street. A neighbor phoned Fred at about 11:00pm and told him to get down to the station. Fred came down in his pajamas, turned off the transmitter before we could do a proper signoff and orally tore me to shreds. I was suspended from my show for six weeks and Geoff Beran finished the season out.
Then there was the phone bill that Fred Moore received after Chris and Dave made calls to Iran from the radio station's phone.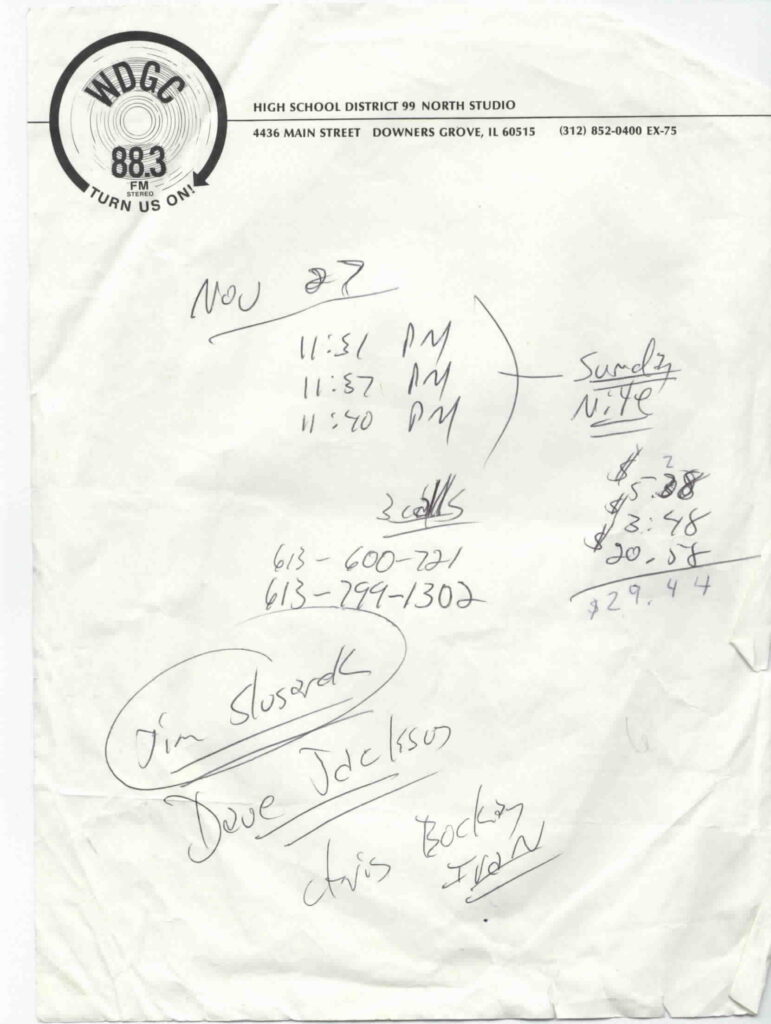 In June 1984, I teamed up with Dave again to do Season 3 and we had Fred record this little bit for us, which we aired at the start of every show that summer:
In the end, Fred and I made up because I got this glowing letter of recommendation from him.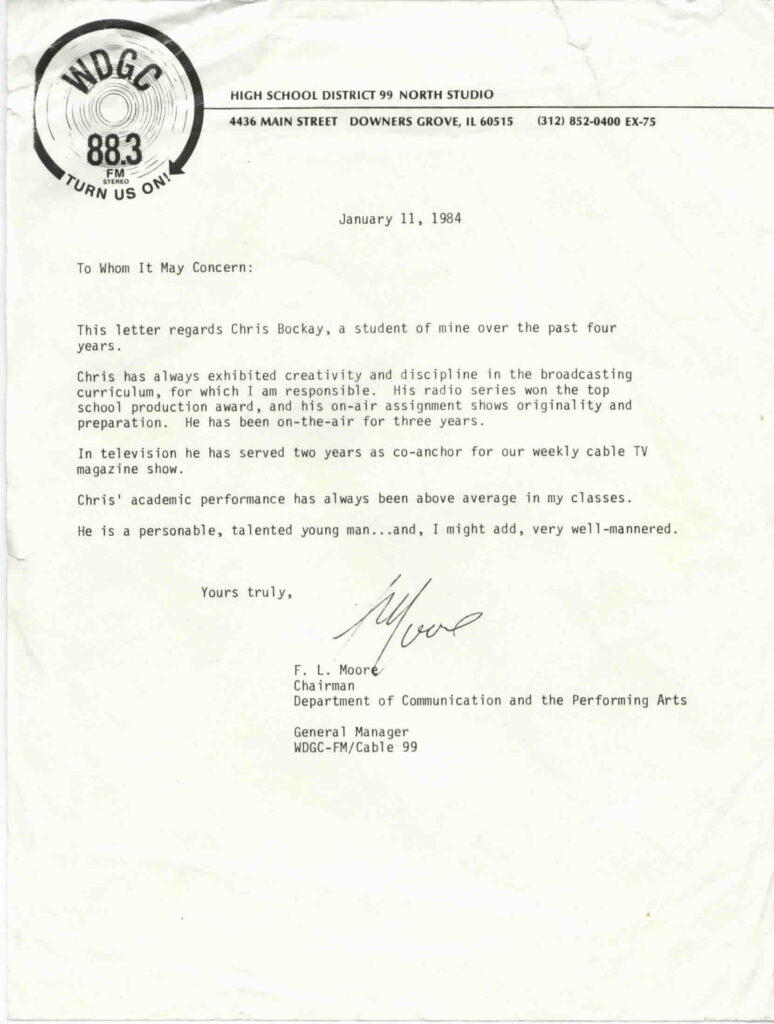 The Chris and Dave Legacy : The rules given to us in 1982 were reduced to only '7 Commandments' as shown here, posted on the station glass window, just two years after my graduation when I returned to Downers Grove to visit Fred and the studio in 1986.
WDGC Alumni Reunion (2016) – Presenting Fred with Appreciation Award