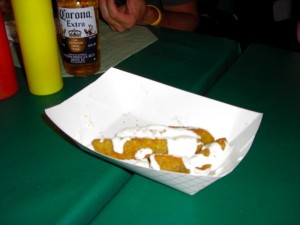 How's that for a blog entry title? The truth of the matter is I tried fried pickles for the first time in my life and it is indeed still true – you can fry anything and it tastes good! Okay maybe I should put this in more context: Peet made his bi-annual trip out to my house over the most recent weekend. We then hopped in the car and made a road trip to visit our dear friend Kelly – of almost 30 years – at her new home in Danville, Illinois. Danville is no foreign place to us. Oh, we have definitely been there before! Our first trip in 1985 played a big part in our "summer of hell" weekend when Peet's date almost committed suicide. That particular trip to Danville is when Peet went nearly blind after putting hard contact lens cleaning solution directly in his eyes.
The next year in 1986, we went back to Danville and got locked in a cemetery that was a part of some forest preserve. They had closed up the gates after hours and we attempted to drive around the locked gates at the only point where there was an opening. Unfortunately, getting up onto the actual road required us to drive up a huge incline, and my Toyota Celica was not up to the challenge. My car slid right back into the ditch and we needed to get towed out.
So why did we want to go back to Danville again after all these years? Well, it turns out third time was a charm. This time around our trip was flawless – good food, good friends, good s'mores, simply put.. good times. Although it had the potential for not working out that way. Check out our new video on YouTube documenting our weekend – I almost broke a hip and it was caught on video! This truly demonstrates that you are never too old to create new memories.