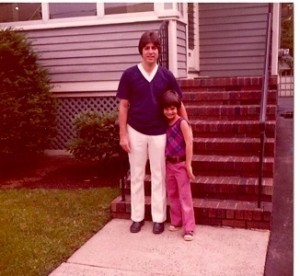 Every now and then I work up the courage to venture into my crawl space. I ran out of lazy things to do over the Thanksgiving holiday, so I decided to get productive and clean out some old junk that I have been holding onto for years. So in the process of doing just that, I came across this gem of a recording. It is the very first audio recording of me – recorded Friday July 23, 1976. This is a skit that my dad and I put together over summer vacation that year. I guess in some ways this was the official launch of my interest in broadcasting and tape recordings. I can still remember my first tape recorder.
I was fortunate enough to be able to make a digital copy of this recording because two of my tape decks didn't even recognize the recording any longer since magnetic recordings don't last much longer than 25 years. However, one of my tape decks came through so I was able to do the digital transfer and preserve these early memories a bit longer. Enjoy this very personal look into my childhood years.
My dad came out to visit for his 75th birthday and we decided to update the old classic with the latest technology and sound effects. Enjoy this new, more elaborate creation from SmorgShow Productions.