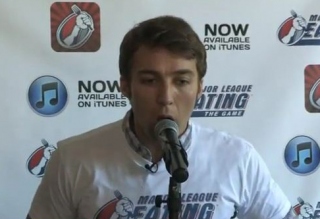 \

Ally has graduated middle school and we discuss the awards that were given, including the one for being disciplined no more than once per quarter over the duration of three years. Really? Is this an accomplishment? Has the bar been lowered to the point where this deserves an award?
We give a special shout-out to Tim Janus, the winner of the first ever World Burping Championship who delivered an 18.1 second long belch.
We also discuss 9-year old Martha Payne from Scotland who has been blogging about her school cafeteria lunch program. She has won the censorship battle against her school council who tried to silence her for posting photos of her school lunch and writing reviews about it. Ally commented that her lunches are much better than the ones served at her school. Martha's blog is now back up and running at NeverSeconds.blogspot.com
For the upcoming Father's Day weekend, we play a flashback recording of Baba Gonesh from a few years back. Baba discusses the Father's Day tradition in India and shares a very touching story about him and his son. You better have some tissues handy for this one!
Finally, Phillip Donald has returned to our studio with a brand-new track from his forthcoming children's CD. Chris and Ally are concerned about his behavior.
Featured Artist of the Week: Codie Prevost