PSYCHO GIRLFRIENDS
After almost 6 years apart because of college, Peet and I were back together as close friends. We both moved to downtown Chicago only about 2 miles from each other that year.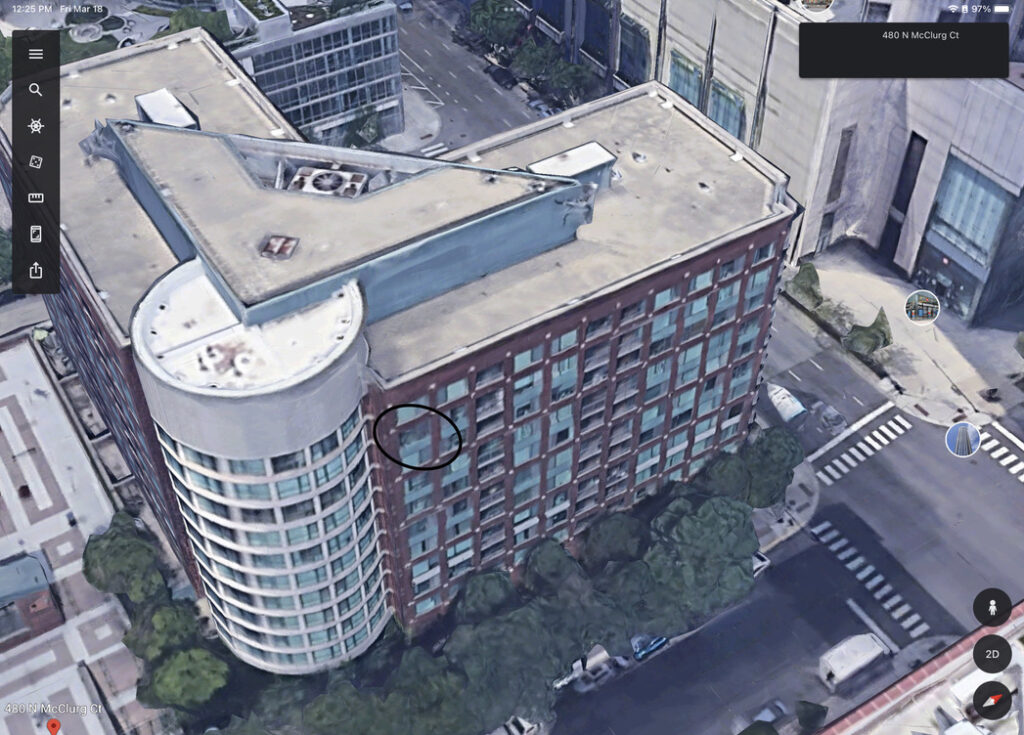 By this point in our lives, we just about had had it with psychotic women. These are women who string you along because they don't know what they want. Even though they have never been treated better by a guy before in their lives, they just can't commit to a guy who would do anything for them. I had just come off of a series of bad relationships, including a pretty rough one which I wrote a journal about and read completely on Episode 109 of the SmorgShow Podcast.
Peet and I decide to put our trust in our pet Gargoyle. These trusty friends keep these psychotic women miles away from our apartment – it really worked!! I never dated a psychotic girl after this!!
RESTAURANTS
Two blocks from where I lived there were two restaurants next to each other. One was Chris' Cafe and the other was Jerry's Deli-Pub. We took this opportunity to make this bit to promote "our" restaurants. "Chris: A Cafe" – the name is both pompous and snooty and so was the menu. This was a healthier alternative to Jerry's greasy spoon. Another example of impromptu creativity based on our immediate external environment. Couldn't have planned this any better! Check it out below.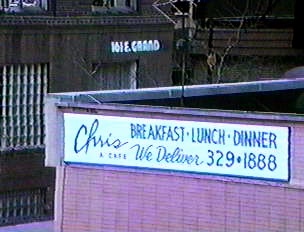 OTHER HIGHLIGHTS IN SLIDESHOW:
There are a few shots of Peet's apartment include one of his nose sculpture and the infamous "Wall of Shame".
Jerry sings his tale of woe: "Whatcha gonna do, whatcha gonna do, when your bitch be dissin' you". "You know they want commitment, they want us to care, but when we open up they go runnin' scared."
Jerry flips us the bird: One of the first things you learn in the city is not to give money to every homeless person who asks otherwise you will become one yourself. There is a shot in this slideshow of a very pissed off Jerry after a bum hit him up for 5 dollars. Jerry was not in the mood to be videotaped.
Rap Song '91
1993
In and out of yet another relationship (not with a psychotic girl this time), it was time to reflect. This meant the same old thing: borrow a video camera, call Jerry and Peet and make some more videos. 1993 was also the year I would meet the girl I would eventually marry.  After two years of living in the Streeterville area of Chicago, I ended up moving to a new place. The reason for this is as follows: In 1991, I signed a 2-year lease at a brand new building. They offered a great deal for new tenants. At the end of the lease, my rent was to go up to something like $800 for a studio. I lived in a prime area–right across from North Pier, so they were able to get away with those prices. In the summer of 1993, I moved into an apartment on the the 43rd floor of Presidential Towers, in the West Loop area of Chicago which allowed me to continue paying the same rent as I had the previous two years.
In the City Boyz highlights reel, there is a shot of Peet and me at Navy Pier. This is the last shot of us before both of us got involved in serious relationships. A month after this was taken, On July 1, I met the girl who was to become my wife just two years later. It was on the elevator at my residence. I was on my way to work that morning and this beautiful girl introduced herself to me. It turned out she worked for the same company and she recognized me. We joke now that if I had hit my snooze button just one more time that morning, we may never have hooked up.
Peet started dating a performance artist at this time. Because we were both tied down after this point, we didn't do another full-length video until 1997.
1994
There is no video footage available for 1994. The main event in my life during this year was getting engaged over Memorial Day weekend at Disney's Epcot center. The guys and I didn't really hang out as much during this year. From this point on, my life changes entirely. My wedding date is now set for July 1, 1995.